It's not unusual to be thinking about moving.
Whether you've been working from home, are an essential worker, or have been furloughed, you – like most Canadians – have probably been spending a lot more time at home than usual in the past few weeks. And it's funny how spending so much time looking at the same four walls gets you thinking about what it'd be like to move.
Depending on who you talk to, now is either a 'great' time to buy a new home or a 'terrible' time to buy a new home. It's a great time to have your home appraised for legal purposes – or maybe it's a terrible time for that. The experts who offer these opinions can't all be wrong, can they?
Well…
Real estate predictions are tricky at the best of times.
Anyone who's lived in southern Ontario in the past 20 years knows that this has been one of the most stable real estate markets in the Americas: Whether you were buying a condo in downtown Toronto, an older home in Ancaster, or one of the many, many new townhomes in Oakville, you could be almost certain that the value of your home would grow steadily, and sometimes very quickly. "The truth is that my house makes more money than I do every year," one client told me, meaning that his home (a semi-detached older home in Toronto's Riverdale) was seeing an annual increase in value that was greater than his annual salary.
However, even in pre-coronavirus times, predictions weren't easy: While some pockets of Hamilton neighbourhoods became highly desirable and values increased dramatically, for example, there were other neighbourhoods which didn't keep up. High-rise condos in Mississauga sometimes sat on the market longer than expected, while similar units in Burlington were snapped up fast.
COVID-19 and the resultant social distancing has already put an immediate dent in the economy. While most economists say that the underlying fundamentals of the economy are strong, and that will make recovery easier than previous recessions, we also know that consumer behaviour and spending has changed significantly during the pandemic: More people are buying online, working from home, ordering food online, consuming more streaming media, cooking at home, spending more on alcohol but less on gas – these are just some of the ways in which people are doing things differently right now, and it's likely that some of those changes will stick around long after 'lockdowns' are lifted.
In other words: Predictions about the next 12 months are even more difficult than they used to be.
How is this relevant to real estate appraisals?
The job of a professional appraiser, of course, isn't to make predictions but to assess the value of a given property on a given date based on the most current historical data available.
However, a good and thorough appraiser will also keep up to date on what the 'experts' are saying about the real estate market – and that's where things get a bit sticky, because while there is no shortage of experts and pundits and white papers about the current real estate market, very few of them agree.
Take, for example, a recent document by Re/Max which indicated that the Toronto real estate market would continue to grow in 2020: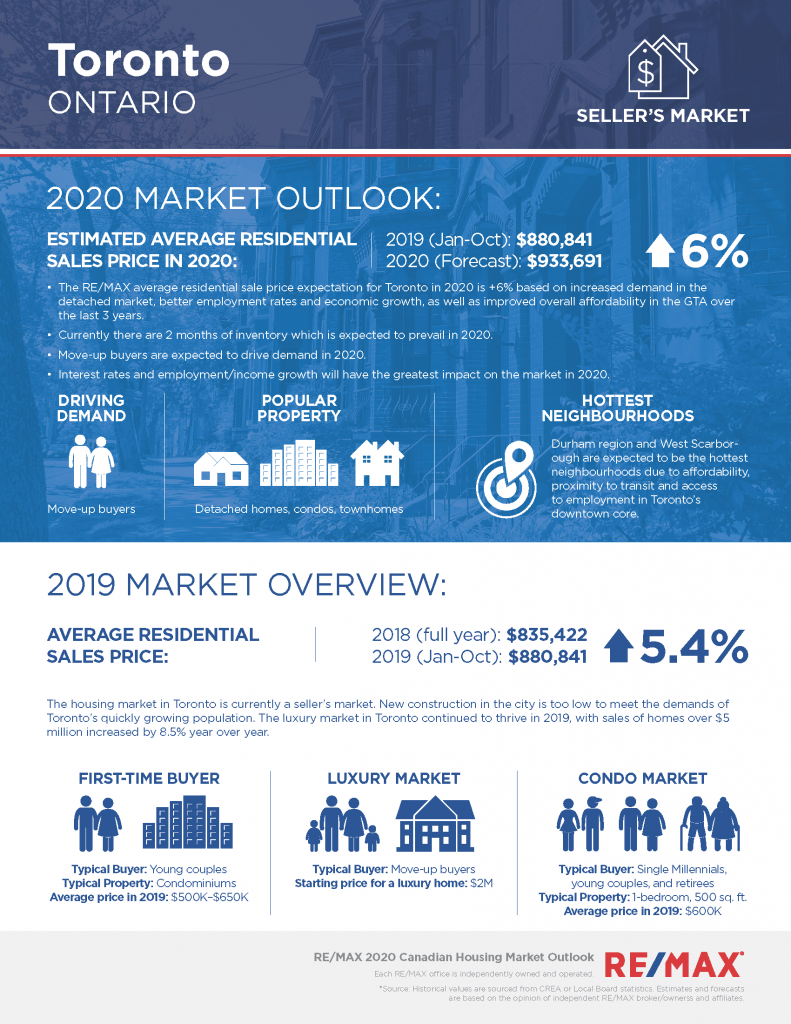 And now let's take a look at a recent study which indicates a much different picture. Instead of sale prices growing by 6%, this data predicts sale prices falling by 1.5%: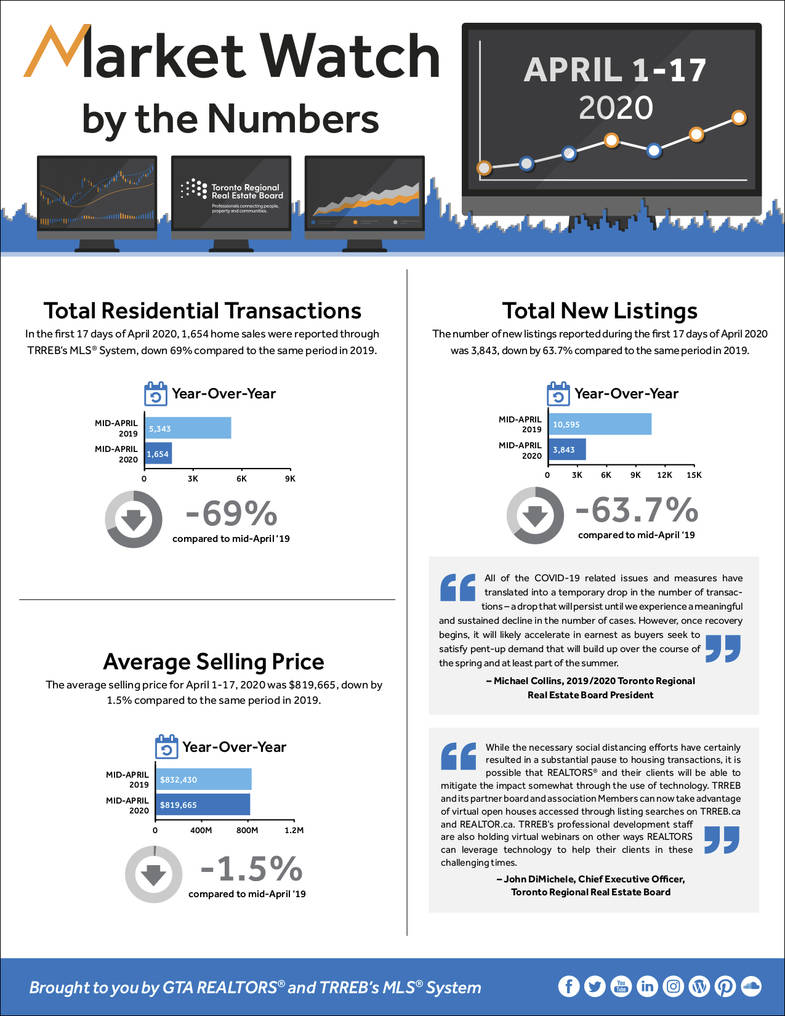 Multiple sources are crucial.
We've included these two graphics because they're concise, contradictory and confusing. It seems odd, for example, that residential transactions would be down by 69% while prices are down only 1.5% – in a normal market, you'd expect a dramatic fall in transactions to be accompanied by a dramatic fall in prices (but this may not be evident until we have another couple of months of data).
But there are all kinds of articles, reports, blog posts, whitepapers and studies out there right now. Some of them are objective and impartial; others are clearly promoting a particular point of view; none of them are going to be perfect.
So is now a good or terrible time to sell? Should you wait a week, a month, a year? We aren't going to know that with any certainty for at least a few months, and the answer will likely be "it depends".
If you're finding yourself thinking about moving in 2020, our advice is this: Make sure you do your research, talk to experts – and don't assume that anyone has a single magic answer.