Well, it's that time of year again: The time when experts and pundits everywhere look back at the year that was and try to make sense of it – and figure out what we can expect in the year to come.
With that in mind, we wanted to share a couple of infographics we came across this week.
Canadian house prices by major cities
Zoocasa produced an interesting graphic based on CREA house price information on a month-by-month basis over most of the past three years.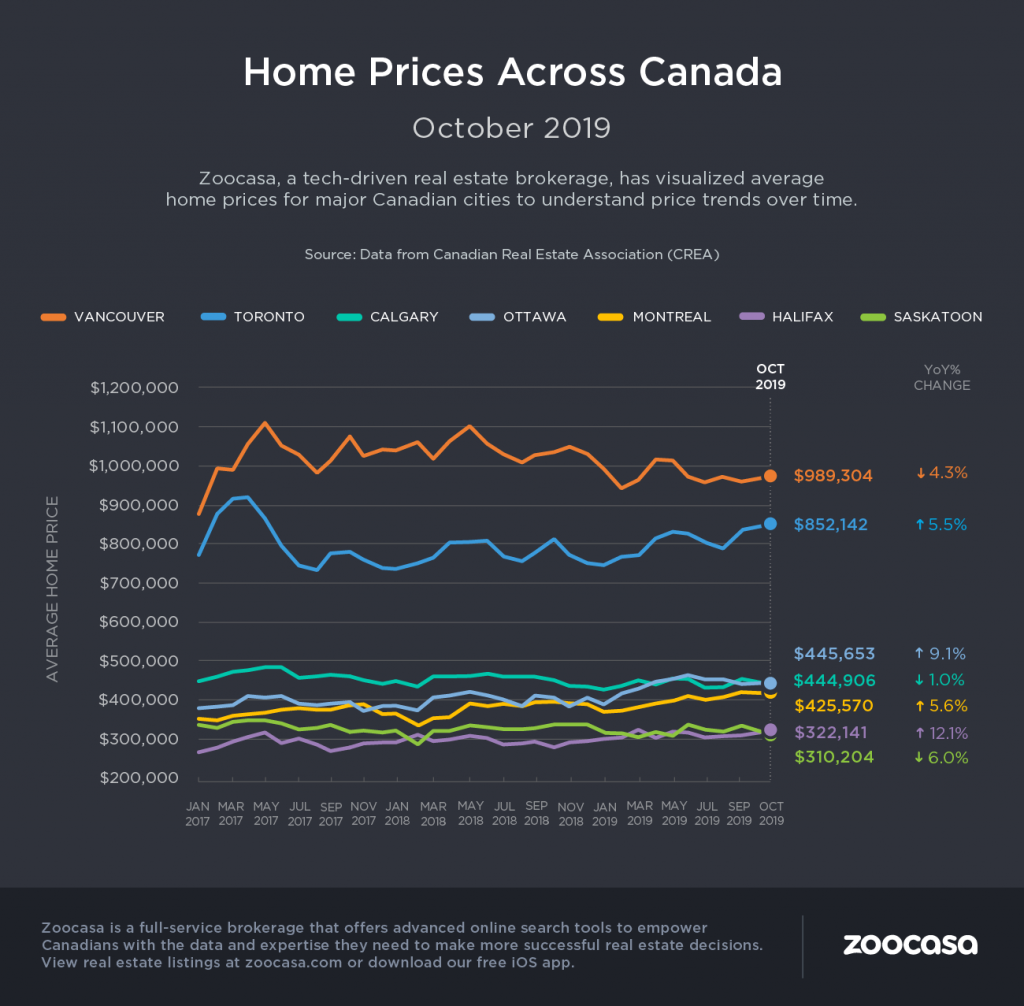 For those of us accustomed to reading monthly real estate reports on a very localized basis ("Single family home prices in X location have increased 4.2% over this month last year"), it's interesting and, in fact, helpful, to see almost 3 years' worth of data laid out like this.
While Vancouver prices have come down a little in recent months, over the past 3 years they've seen an overall uptick – but the price spikes we tend to hear about on a month-to-month basis are smoothed out.
And while Toronto has lately been called 'rebounding', the truth is that over the 3 year period, prices are up similarly to Vancouver – which is to say, both cities are still pretty expensive but neither are unrecognizable.
What's even more interesting is that there is so little consistency across the other cities in terms of YoY% change: Ottawa, Halifax and Montreal are up (though real estate professionals in both Halifax and Montreal say that this year's extreme weather disasters in both cities have got buyers a bit spooked); Saskatoon is down more than expected, and Calgary is more or less the same.
What does this mean for 2020? It's hard to say. Which is why we found this infographic from Huffington Post quite revealing: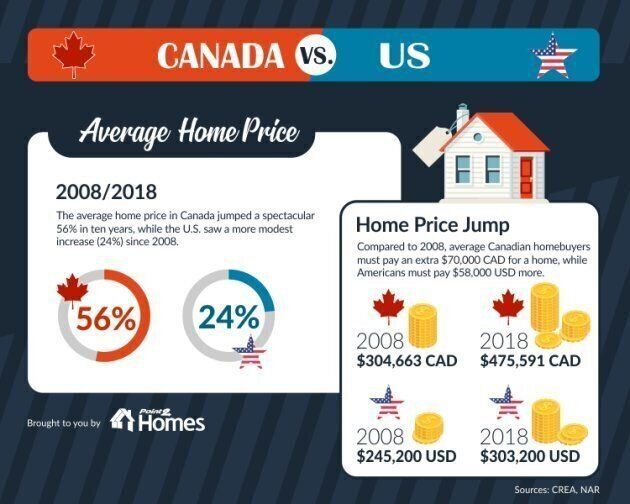 On one hand, the article notes, from an economic perspective, Canadians are doing far better than our neighbours to the south. We're paying less taxes, and we weathered the recession of 2007-2008 better than Americans, but our skyrocketing home prices have driven paper wealth while leaving many of us with huge mortgages, reduced savings, and greater barriers to home ownership for young people.
This is an unusual situation, and as the retirement of baby boomers means an increased transfer of wealth to the next generation – not to mention a widespread downsizing from large single-family homes – it's hard to predict what we'll see in the next 5 years. We don't foresee a sudden and dramatic bursting of the real estate bubble, especially in the big cities. But we're unlikely to see sharp spikes in prices – economists say that most Canadians are currently 'maxed out' when it comes to mortgages and household debt, which will reduce upward pressure on prices.
Bottom line? When it comes to home value, the average Canadian should continue being careful, a little cautious – and don't let anyone tell you that if you don't buy a home today, you'll be totally priced out by tomorrow.